Here's some stuff about my trip to Manchester yesterday to see the World Premiere of


Arrived in Manchester mid-afternoon yesterday. Met up with my mates V and M. We had a mooch around and checked out the Bridgewater Hall area.
There were posters in the street:









Still can't decide whether Johnny Vegas' name is larger than Alan's name!!!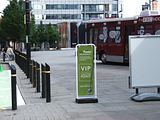 Well we waited a bit but didn't manage to collect any!!;)

Bridgewater Hall: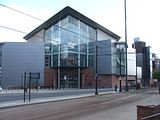 We arrived at the Hall after seven and immediately bumped into Juliet and her husband. We went in to check out our seats and found them slap bang in the middle of the front row. We were alarmed to find a podium there and got excited but then worked out it would be for the conductor.

I left V & M and headed for the loo (what a surprise!)As I walked through the bar I heard my name being called and found
hikity and
peeekaboooh. Had a quick chat and then went back in. Hikity and Peek managed to get seats right in front of Alan by sitting in what they thought were empty seats. When the real ticket-holders arrived Hikity sweet-talked them into sitting in their original seats as they ascertained the guys weren't there for Alan!!

Sitting in the front row wasn't the best place as you couldn't see all the orchestra and we got stiff necks and poor V had the conductor right in front of her so couldn't see the film screen at the back very well. However it had the bonus of being feet away from the main singers and narrator and being able to watch them all evening.

The basic premise of the event was that it was a musical interpretation of Salmon Rushdie's novel The Ground Beneath Her Feet. The story is about three people Vina (sung by Lore Lixenberg) Ormus (sung by James McOran-Campbell) and Rai (Played by the narrator Alan Rickman)
Basically a love triangle with a background of the the history of rock but set in India!
At the back a silent film played with scenes enacted by three actors playing Vina, Ormus and Rai (hope you are following all this!)
The piece started off with the orchestra playing an Earthquake. The Halle Orchestra were fabulous. The singers were great but I have to say that personally I find operatically trained singers singing rock and songs in "modern" English a little difficult to accept but that's just me, I am not a big fan of opera etc.
The music composed by Victoria Borisova-Olias was stunning, I just drifted away with it all.

I loved Alan's narration. It was fascinating to see him sitting on his stool awaiting his parts. He switches from quiet contemplation and listening to the music to immediately swiching to his character, the photographer Rai. Although I have enjoyed seeing Alan doing Q&A's and interviews this is what I wanted to see, a performance, and we certainly got a great performance. Sitting on a high stool and with just a flick of his hands he becam Rai amusing,sad,reflective and much more. My Rickman fandom comes from the voice and we got a lot of Voice;). Certain word stuck in the mind like "Click" (of the camera) and at one time I was tempted to whisper (a la Beavis & Butthead) in V's ear "Whoah, he said Breast!!" LOL

It was over all too soon and I managed to grab my camera for the curtain calls. Unfortunately the batteries decided to run out at the moment but here are a couple of pix: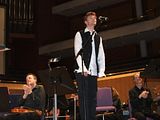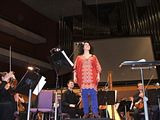 The singers.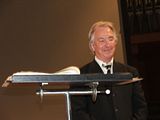 M took some great pix and she'll share them when she gets home and works out how to get them from her new camera to the computer!!

Afterwards we went back to the bar and had a drink with Juliet and her husband. V &M went out later to see if Alan was about but learnt that he had already left so will have to wait for Hik aad Peek for the pix and info there.

I had a great time and returned to London by train this afternoon. Not the end of the story though because I got off the train from Manchester at Euston Station about 3.20 pm and headed off to find the taxi rank so I could get to Waterloo as I didn't fancy travelling by Tube with the previous day's events fresh in my mind.

The taxi rank is downstairs in the Underground car park. As I got to the top of the stairs I noticed a small lady and tall man descending in front of me carrying their luggage. Yep! Guess who!?! I heard the sonorous tones and knew it was him.

At the bottom of the stairs you take a right and come out at the taxis. There was absolutely nobody else about and two taxis coming in as we walked along the taxi rank queuing rail. They turned in front of me back along the other side of the rail so he walked straight past me.

Year's of practice of avoiding people meant he made no eye contact so I took a deep breath and called out "Thank you for a wonderful concert last night Mr.Rickman!" I was behind him by then so he turned around and gave me one of those piercing looks and said "Sorry?" So I repeated some babble about "I was at last night's concert and it was wonderful etc etc." He finally cottoned on and his face relaxed and he smiled and said "Thank you" and seemed to intimate that he agreed that it had been wonderful!

They then got into their taxi and drove off and I was left with a silly big grin on my face.