Just looking back at last year's end of year comments. Not a lot of change really!
I was looking for a new job as I had been made redundant. Well I had a three month temporary job from Jan to April in the accounts dept at the Forestry. I could have stayed on but quite honestly I loathed it! After trying a couple of other things I landed the Box Office Assistant job at the end of May and have been there ever since. It can get pretty hectic but it's a lovely place and the people are nice (and I get to see free movies and bands!!)
As you know Mum has been pretty ill but she's still struggling on and all the time she can cope with getting in and out of bed on her own then I should be able to look after her.
My twenty year old son left home about four or five weeks ago and set up home with his girlfriend so that has made life a bit easier and they seem to be happy at the moment (cross fingers!)
Otherwise, life has just trudged along interspersed with what MPH would call my "cultural activities!". Seen some great plays and also some fabulous concerts like Prince, the Police and Bruce Springsteen.
A quote from last year's post:
Of course I couldn't let another year go by without seeing Alan Rickman in the flesh! I've managed every year at least once since 2001 so here's this year's proof (Roll on 2007)"
Well I didn't have to wait long because January 3rd 2007 we went to Kilburn to see the
Perfume
Q&A thing: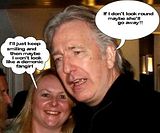 Then in the summer I went to the
Ground Beneath her Feet
concert in Manchester which was fabulous. Beautiful music and seeing what Rickman does best: performing.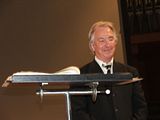 Then got the hat-trick in October watching the incredible Patrick Doyle Concert!
Doubt if I'll strike so lucky in 2008 but as long as I can keep the tally up with one thing I'll be happy!
Definite things lined up for next year so far are Lise and I seeing Spacey on stage in February then we feed our Bruce lust again at The Emirates in May;))
Wishing you all Health and Happiness in the New Year